Recipe: Tasty Lime and Ginger Cheesecake
Lime and Ginger Cheesecake. Check Our Step-By-Step Guide To Cook Different Styles Of Cheesecake Recipes! Mix cookie crumbs and butter in a small bowl and press into the bottom of springform pan. Beat with a mixer on medium until smooth.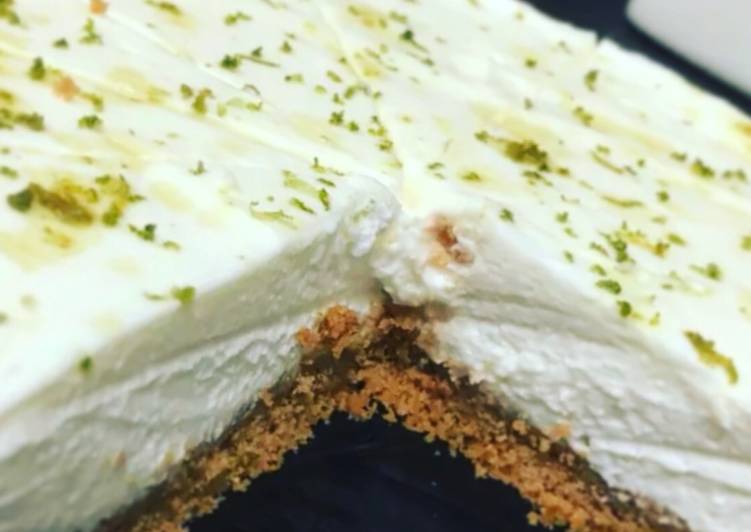 Mix vigorously until all ingredients are fully incorporated. Spread the cheesecake mixture over the biscuit base. Blend ground cookies, sugar, and ginger in processor. You can have Lime and Ginger Cheesecake using 8 ingredients and 15 steps. Here is how you cook it.
Ingredients of Lime and Ginger Cheesecake
Prepare of Base.
Prepare of Melted butter.
It's of pck ginger Biscuits.
Prepare of Top.
You need of Whipping Cream.
Prepare of caster sugar.
Prepare of mascarpone or Philadelphia cream cheese.
Prepare of medium sized limes.
Add melted butter and process until moist crumbs form. Be the first to review this recipe. This too came from my Buttercup book. It's a refreshing cheesecake with abit of added spice.
Lime and Ginger Cheesecake step by step
Get a 24inch cake tin and grease the bottom and lime the edge with wax paper..
Crush the Biscuits until you have very fine crumbs. I use a blender just because it's faster and less messy!.
Melt the butter until it separates. When it does, remove top section (yellow part) and add to the biscuit crumbs. DO NOT USE the white of the butter at the bottom.
Add the melted butter with the crumbs and mix together.
Put the base into the bottom of the cake tin and pat firmly down whilst making sure the bottom is evenly spread and covers the whole area. I find using you hand helps.
Stick in the fridge for at least 15 minutes to set.
For the top, squeeze the juice of 5 limes, remove any pips and then put aside for later along with some of the skin.
Whisk up the whipping cream until thick.
Add to the cream the mascarpone cheese, sugar and the lime and whisk until all is mixed together.
Remove the tin from the fridge and spoon over the mixture..
Smooth out the top.
Great over some lime zest and squeeze it a little for the speckled effect.
Put back in the fridge until set (2hrs).
Take out of the fridge, remove the tin and wax paper.
Enjoy!.
Remove the pan from the heat and add the ground ginger and crushed biscuits, then stir until the mixture is well combined. Pour the batter into the crust. Transfer the cake to a rack, remove the foil and let the cheesecake cool completely. Fold in the chopped ginger and mix together. Pour in the tin and spread evenly over the chilled base.