How to Make Tasty Quinoa, Mango & Mint Salad
Quinoa, Mango & Mint Salad. This mango salad is packed with healthy veggies (jalapeño pepper, fresh tomatoes, red onions, and cilantro), fruit (mango and lime), and whole grains (quinoa). Actually, quinoa isn't a whole grain. Well, OK, I lied- not whole grains.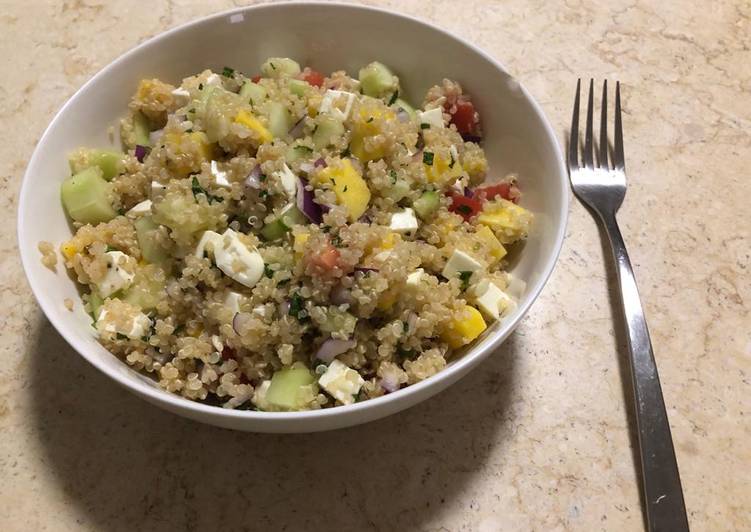 Add mango, cucumber, red pepper and onion to quinoa. Place the cooked quinoa in a large bowl and add bell pepper, black beans, mango, salt and ground black pepper. Pour the homemade vinaigrette dressing over the quinoa salad and stir to combine. You can have Quinoa, Mango & Mint Salad using 11 ingredients and 3 steps. Here is how you cook that.
Ingredients of Quinoa, Mango & Mint Salad
You need 2 cups of water.
Prepare 1 cup of quinoa.
It's 1/4 of red onion.
It's 2 of mangos.
You need 1 of cucumber.
Prepare 1 of Roma tomato.
Prepare 1 cup of feta or panela cheese.
You need 1/2 cup of finely chopped fresh mint leaves.
You need 2 of lemons, the juice of.
It's to taste of salt.
Prepare to taste of pepper.
This salad is good served at room temperature or chilled. Bring chicken stock, quinoa, curry powder, garlic powder, salt, and pepper to a boil in a saucepan over high heat. Once done, scrape the quinoa into a shallow dish and allow to cool to room temperature. Stir in the mango and green onions.
Quinoa, Mango & Mint Salad step by step
In a pot, bring the water to a rolling boil. Add the quinoa, cover and let simmer at low flame for 15 minutes. Drain and transfer to a bowl to let cool until room temperature (you can speed up the cooling by placing a smaller bowl with ice cubes or chilled water on top of the quinoa)..
While the quinoa cools, dice onion, mangos, cucumber, tomato and cheese..
Combine quinoa with diced ingredients, add the mint leaves. Toss with the lemon juice and season with salt and pepper. Voilá!.
Mix together the beans, quinoa, corn, bell pepper, mango, onion, cilantro, and jalapeño in a mixing bowl. Whisk together the lemon juice, olive oil, garlic, cumin, chili powder, and turmeric in a small bowl. Drizzle over the mixture and toss. Cook the quinoa according to package direction and then cool to room temperature. Combine the quinoa, beans, mango, pepper, onions and cilantro in a large bowl and toss to combine.